If you're looking for a new job, you might have received several offers already. Maybe your friends want to congratulate you on an offer, and you should know how to respond when they do so.
Luckily, this article is here to help. We've gathered some great phrases to use in different situations, depending on whether you accept the offer.
If You Accept the Job Offer
Accepting the job offer presents the easiest way to respond to congratulations. We recommend including positive phrases in an email, such as "I appreciate your congratulating me on the offer." Then, you can formally accept a job offer with a simple response.
Most employers will appreciate a clear acceptance after congratulating you on a new job. So, it would help to be as clear as possible when thanking them.
Here is a sample email to show you how it works:
Dear Mr. Jenkins,

I appreciate your congratulating me on the offer. Of course, I accept the job! I can't wait to start working with you.

All the best,
Sarah Jane
To keep things even simpler, you might feel like using "thank you" in some manner. "Thank you" is a clear and obvious phrase that shows how much you appreciate someone's kind words or congratulations.
For instance, you might write:
Dear Sarah,

Thank you so much for your kind words about the job offer. It's been a long time coming. I'm going to accept it!

Yours,
Dean Marksman
Finally, you may show positive emotions in an accepting response. After all, getting a new job is exciting, and it's always good to say something like "I'm so happy" or "I appreciate that."
You can check out the following email example to help you with this one:
Hey Michael,

I'm so happy to get this job, so I appreciate your kind words! You've always been a good friend.

See you soon,
Michelle Keegle
When Waiting for Other Opportunities
If you need more time to consider the job offer before accepting, that's okay. Obviously, you need to clarify that with the employer before you can officially take the job.
Generally, once you've passed the interview stage, you'll know whether a job is right for you. If you're still not set on a job, you can always wait around before accepting anything too soon.
So, when your friends and family congratulate you on the offer, you may want to let them know that you're still considering your options. After all, you might not be as keen to take the job as they first think.
Check out this email example to see how to phrase it in this situation:
Dear Harry,

Thanks, but I'm still waiting to hear back from other jobs. I'll let you know when I've settled on the best one.

Kind regards,
Sam Wallace
If you have questions, you may still need to wait before accepting a job offer. It's good to let an employer know if you're not ready to accept a job. However, you should try to be as polite as possible if this applies to you.
Here's a sample email to show you what to say in this case:
Dear Ms. O'Toole,

I appreciate that, but I still have some considerations to make. Please bear with me before I finalize any decisions.

All the best,
Kingston Clean
For a more informal alternative, you may want to make it more friendly. For instance, if a friend congratulates you prematurely, you can let them know that you might not accept the job. Perhaps you still need to think things through before making final decisions.
So, you can refer to this example to see how a more conversational alternative looks:
Hey Martina,

While I appreciate your congratulations, they might be a bit premature! I haven't decided if this is the right job for me yet.

Best wishes,
Niamh Console
Negotiating Conditions
You should know how to respond to a job offer without accepting it straight away. That's where negotiations come in.
Before you're hired, there's always room for negotiations. Don't hesitate to introduce a counter offer asking for more money or benefits before fully accepting a job. Often, employers enjoy negotiating to find out whether you value yourself.
Salary negotiations also keep things interesting between yourself and your employer. We highly recommend being upfront when talking about changes to your salary.
Check out this email sample to see how to negotiate your salary:
Dear Dr. King,

I appreciate your offer, but I would like to negotiate my salary first. I hope this doesn't cause too much of an issue.

Kind regards,
Adam Haley
As we mentioned, counter offers could take many forms. You need to be direct and clear if you're going to counter an employer's original offer. Otherwise, you won't get very far with whatever you send in your email.
You can try to say something like "I still need to make a counter offer" to let an employer know that you're almost ready to take a job. You just need to iron out a few details.
For example:
Dear Maria,

Thank you, but I still need to make a counter offer. I have a few things that I'd like to discuss with you.

All the best,
Stefan Nicholls
It's not just employers that you can email in this way. Perhaps your friends have congratulated you too early. Well, you should let them know that you haven't agreed to a job and want to negotiate more.
Be as clear as you can to make your situation obvious. Try saying "I haven't agreed to anything yet" or something along those lines when a friend wants to congratulate you on your hard work.
Check out this letter sample:
Hi Jackie,

Thank you for saying that, but I haven't agreed to anything yet. I'm still in the negotiation part of the offer.

Best wishes,
Tom Walker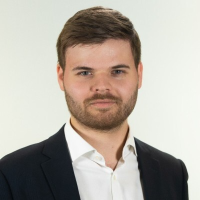 Martin holds a Master's degree in Finance and International Business. He has six years of experience in professional communication with clients, executives, and colleagues. Furthermore, he has teaching experience from Aarhus University. Martin has been featured as an expert in communication and teaching on Forbes and Shopify. Read more about Martin here.