Sometimes, jobs might ask for your availability ahead of any interviews. It might be good to mention availability on a resume, though this isn't always a good idea. This article will explore how to put availability on a resume when it's required.
How to Write Availability on Your Resume
You should write your availability in the professional summary towards the top of your resume. It's best to include your available start date and times if the job requires it. However, availability works much better when it's included in a cover letter or mentioned during an interview.
Here are some examples to help you phrase your availability to start work on your CV or resume:
I am available from June 15th.
I'm available between 9 a.m. and 5 p.m. on all days.
I am not available to work on Sundays.
I have other ties on Fridays, but I can work any other day of the week.
I have a very flexible schedule. I'm happy to work my hours around you.
These are just some of the ways you can mention your availability on a CV.
Some jobs require you to put it down, so it's worth including in your resume when applying for a job that asks for your availability. If a job does not directly ask for your availability, it's best if you avoid including it.
Availability tends to work best in a cover letter or during an interview. This allows you to explain to an employer when you are available and lets them know whether you're a suitable hire.
Of course, open availability will always be a better fit for most companies. Having limitations to availability before you start might make you seem like a less dependable employee. It really depends on how often the job might require your assistance.
The simple rule here is if in doubt, do not include your availability. It isn't always going to make you look better in a resume. Sometimes, it might make you come off worse in the eyes of an employer.
Should You Put Availability on a Resume?
Nine times out of ten, you should not put availability to start work on a resume. You should not include it because it works better elsewhere. Cover letters and interviews are better suited to include availability. It's also more acceptable to talk about it there.
You'll often find an employer will ask you the following in an interview:
When are you available to start work?
It's at this point that you should talk about your availability. Your previous job might require one-month notice, so you might need to give them a date a month from the interview to show that you need to work your full notice first.
Different jobs and companies have different rules associated with including availability on a resume. There's nothing wrong with doing so, as it can provide dates of availability in a concise way. Still, it's best to avoid it if you haven't specifically been asked for it.
Read the job description before applying for a job. This will give you an insight into the kinds of things you need to include in a resume.
There's no point in including things that won't help you to sell yourself to an employer. For example, if an employer requires you to be a quick typer but you don't talk about your typing skills, you won't sell yourself to them.
Likewise, if your employer asks you to list your availability and you don't do it, it might cause them to put your resume straight in the trash. After all, not including something in the job description implies that you didn't pay much attention to detail when reading through it.
How to Describe Your Availability
Now, it's time to see how to write availability in your resume. It's not as simple as listing some bullet points to let an employer know when you can work. You want to include it organically in your professional summary to show when you are available to start at the new job.
Perhaps it would help to go through some examples that show you the best way to include your availability:
I am available to start on Friday. I'm very keen to put my skills to the test to show you what I can do.
Master's student available for full-time work after graduating on June 1st, 2022.
Looking for seasonal work between the months of April and October.
As you can see, you should keep your availability concise. Get to the point as soon as you can to give a potential employer the chance to see when you can work with them.
If you waffle too much, you could cause your resume to look a bit more cluttered than it needs to be. The shorter your sentences are, the more likely an employer will continue to view you as a potential candidate.
Where to Include Availability on a Resume
You don't need to worry if you're unsure where to put availability on your resume. It's fairly simple once you know the general structure of a resume.
A basic resume starts with your name and address, the professional summary, the skills section, and the work experience section. Since availability isn't a skill or work experience, it makes the most sense to include it in the professional summary.
This means you can place it near the start of your resume.
However, you should remember that it's uncommon for people to include availability in a resume unless they think it'll help their chances. It's usually best to talk about yourself and your previous employment in your summary.
Here's a rough overview of what a full professional summary would look like with availability included:
Summary
I have a Master's in Political History. I have a keen grasp of this country's political system and have previously put it to the test in a Political Analyst role. I am available to start work on June 1st, after giving in my one-month notice.
Example of a Resume That Highlights Availability
An example resume is going to help you understand a bit more about what to expect when including your availability:
Peter Daniels
171 Northwest Avenue
Kingsnorth
BC3 ALD


Summary
Data entry clerk with 3 years of experience in the leisure sector. Available to start work in one month, as soon as notice has been handed in at Shark Interiors.


Skills
Detail-oriented
Keen eye for improvement
Punctual
Excellent written and verbal communication
People person


Work Experience
Wolfenstone 2014-2016
Improved efficiency and workflow as General Manager of Wolfenstone

Shark Interiors 2016-2022
Developed a community within the company that has amassed record numbers of new employees
Improved efficiency by 13% in my first quarter

How to Write Immediate Availability on Your Resume
Availability is a time frame that varies from person to person. Most of the time, you will need to give a month or so as notice if you're currently in employment.
If you're not in employment, you might be able to start work immediately. It's good to include this in your resume or a cover letter to show that you're ready and willing to work if there is a position available.
You can mention that you have immediate availability in the following ways:
I am available to start immediately.
I can join immediately.
I am available with immediate effect.
These are great phrases to show you are enthusiastic and ready to start. Like all the other cases where you can include your availability, it's best to place it in the professional summary.
It shows a potential employer that they won't have to wait to hire you. If they like you from the rest of your resume or during the interview, knowing that you can start immediately will encourage them to hire you immediately as well.
Be careful with this one, though. It might make you seem a bit too desperate if you try to announce your availability too soon. It shows that you're desperate to take on work, and it might raise questions as to why you're not in work in the first place.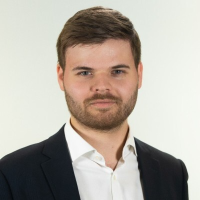 Martin holds a Master's degree in Finance and International Business. He has six years of experience in professional communication with clients, executives, and colleagues. Furthermore, he has teaching experience from Aarhus University. Martin has been featured as an expert in communication and teaching on Forbes and Shopify. Read more about Martin here.