Many employers look for candidates who are passionate about their work, but the phrase "passionate about" has become something of a buzzword. It's so overused that some employers may overlook or dismiss it entirely. This article will examine some alternatives you can use in a cover letter.
What Can I Say Instead Of "Passionate About" In A Cover Letter?
If you want your cover to stand out, describing yourself as "passionate about" the work may not do the trick. Here are the alternative phrases we'll be looking at:
Relentless
Top career objective
Love
Fire inside
Infectious
Hands-on
Innovator
Captivated
Engaged
Inspired
Dream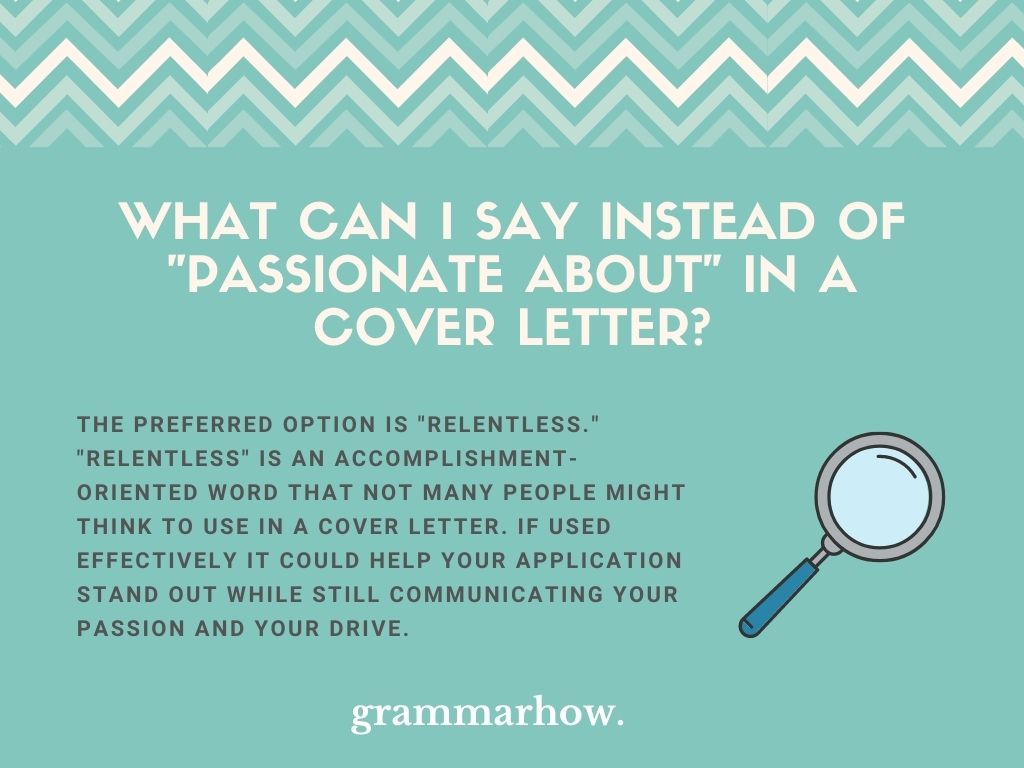 The preferred option is "relentless." "Relentless" is an accomplishment-oriented word that not many people might think to use in a cover letter. If used effectively it could help your application stand out while still communicating your passion and your drive.
Relentless
"Relentless" describes someone or something unyielding and persistent. It's a good replacement for "passionate about" when you want to highlight your persistence.
While "relentless" isn't quite a synonym for "passionate about," you can use it to show your passion. This can be more effective than saying you're passionate.
Here are some examples:
I have demonstrated relentless determination in finishing my projects. When my team was ready to give up on a tough project last year, I rallied them to continue and we successfully delivered the project to the client without any delays.
I am relentless in my pursuit of excellence, as demonstrated by my consistently high ratings.
Top Career Objective
"Top career objective" is a great phrase to use when you're applying to the job or the industry of your dreams. It's a measured way to demonstrate your passion for a field.
"Top career object" is a good alternative to more emotional words like "passion" and "dream" when the employer is looking for more formal, technical writing.
Phrasing it as an "objective" rather than a "passion" makes it more goal-oriented, which is attractive to many employers.
Here are some ways you can use "top career objective":
Working for a major press has been my top career objective since graduating college.
My top career objective is to work as a game developer. I am eager to learn more about the field through this internship.
Love
"Love" is a good word to use when you want to things simple and clear. It's a useful word for demonstrating passion and enthusiasm.
When you use "love" in a cover letter, you want to say more than just "I love doing X." To establish passion and care, you can talk about how your "love" of the work drives you or otherwise contributes to your qualifications.
Here are some examples:
I love working with youth, even when it's difficult.
I love what I do, so I approach my work with care.
Fire Inside
"Fire inside" is an evocative figurative phrase that effectively communicates passion, especially if you're applying in a creative industry.
"Fire inside" is a figurative phrase that describes intense passion and drive. It comes from those sorts of feelings being associated with fire and heat.
Using a phrase like "fire inside" may be too out-there for some industries, but certain companies and creative industries are likely to appreciate it.
Here are some ways you can use "fire inside":
The challenges presented by this industry light a fire inside me.
I feel a fire inside me when I think about having the opportunity to work in such a dynamic environment.
My experience working at the forest home lit a fire in me that has driven my work in youth services.
Infectious
Describing any of your positive attributes as "infectious" communicates your ability to inspire teammates. It's a particularly desirable quality in team-focused work environments.
It's common for people to describe themselves as "passionate about customer service." Using a term like "infectious" may paint a more desirable picture for a hiring manager.
Here are some examples to illustrate this:
I have an infectious enthusiasm and can-do spirit
My infectious positive attitude makes me a strong relationship builder
Hands-On
Many employers are looking for candidates, who are actively engaged in the work, especially for managerial positions. "Hands-on" is a useful phrase for describing this sort of work ethic.
Demonstrating a hands-on work ethic can also demonstrate a passion for the field, as someone who is hands-on can be assumed to care about the quality of the work and the state of employees.
Here's how you can use "hands-on" in a cover letter:
I'm a hands-on manager. I like to be involved in the work I'm overseeing without micromanaging the process.
My experience in journalism has taught me that a hands-on approach is invaluable to producing impactful, quality pieces.
Innovator
Describing yourself as an "innovator" can communicate passion as well as creativity and problem-solving, all skills which are desirable in many industries.
If you're an "innovator," you're someone who isn't afraid to try something new. You may be an out-of-the-box thinker. Tying this skill to examples of problem solving or passion may help your application stand out.
Here are some examples:
I'm an innovator. I care deeply about the work and am always looking for the best way to get it done.
My experience at my past employer showed me how to think like an innovator. I can identify what works and find creative solutions for what doesn't.
Captivated
"Captivated" is a strong adjective for communicating passion and care. It implies a sense of wonder, so it's particularly useful when you're applying in creative and scientific fields.
Here are some examples:
I have long been captivated by the natural beauty of the Rocky Mountain area, and my internship as a wildlife photographer taught me how to translate that captivation into film.
I am captivated by classical Chinese literature and am eager to learn more about the process of translating and interpreting it.
Engaged
"Engaged" is a word you can use to describe commitment to or involvement with something. Commitment is a big part of "passion" so "engaged" is a great alternative.
Here are some examples:
I've long been engaged in climate justice work and my experience in the field makes me a good fit for this role.
I was born and raised in the target neighborhood have been engaged in local grassroots efforts since I was a child. My experience, community connections, and insider knowledge will be an invaluable asset to your efforts.
Inspired
To be "inspired" is to be stimulated to action, especially creatively or emotionally. "Inspired" is a good word to demonstrate "passion about" a particular field or subject, as it implied a depth of emotion similar to "passion."
You don't necessarily want to spend too much time talking about what inspires you in your cover letter. Many industries and companies will appreciate it, but most prefer you focus on your qualifications.
That said, "inspired" is a great word to use while discussing your work history and qualifications as it can help to communicate drive and passion.
My work in rural farming areas inspired me to pursue a career in agricultural policy. I want to continue to connect with and support these communities.
Working with at-risk women in Nepal inspired a lifelong dedication to fighting for women's autonomy.
Dream
Describing a "dream" can be a good way to communicate your passion for a particular field or profession. Terms like "dream" don't always land with professional writing, so be sure to only use it when it aligns with the image or brand of the company you're applying for.
"Dream" can also be a useful word if you're applying for an internship or an education-related work experience program.
For companies looking for more formal or technical writing, "top career objective" may be a better option.
Here are some ways you can use "dream" in a cover letter:
My dream is to work for a company that makes a positive difference. Your organization not only makes a positive difference but always strives to improve.
I am driven to follow my dream to work in the gaming industry. This internship will give me an opportunity to refine my existing skills and gain practical knowledge on how to make my dream a reality.
Fascinated By
Describing yourself as "fascinated by" a particular field will demonstrate your interest and your willingness and desire to learn more. It's a great word to use when growth is an expected part of the job or when there is an aspect of the job you're less familiar with.
While it may not initially seem that important, many employers are looking for people that have a demonstrated interest in the field. Interest can translate to reliability and employee retention.
Here are some ways you can use "fascinated by" in a cover letter:
I'm fascinated by the intersection of art and activism and would like to discuss my qualifications with you.
I'm fascinated by every aspect of museum work. As a recent graduate with a degree in education I believe I am a strong applicant.
You may also like:
10 Good Words For A "Passionate Person"
10 Better Ways To Say "Develop A Long-Term Career"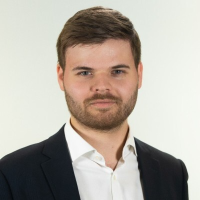 Martin holds a Master's degree in Finance and International Business. He has six years of experience in professional communication with clients, executives, and colleagues. Furthermore, he has teaching experience from Aarhus University. Martin has been featured as an expert in communication and teaching on Forbes and Shopify. Read more about Martin here.