Have you ever found that when you tell something to someone they respond with "I don't care"? Sometimes, this can shock us and make us feel like there's something wrong with us. But there isn't. This is why today, I want to give you a guide on 27 things that you can say when someone tells you "I don't care".
Why Do People Say "I Don't Care"?
But, first, we need to establish why people would so flippantly say "I don't care". It's such a brutal and shocking thing to say that understanding the motivations behind it is sometimes easier said than done. And often, even after reading this article, the reasons for it being said won't always be clear. But hopefully, we can give you a rough guide.
The first reason people say "I don't care". Is quite simply because they don't. For some people, honesty is the best policy. And rather than nodding their head and pretending that they care, they find it easier to just tell you the brutal truth, and let them know that they're not as interested in this particular topic as you seem to be.
The second reason is that they want you to just stop talking about it. For example, maybe they just lost a child and you are talking about yours. This isn't intended to be rude. But you need to respect that there are some topics that some people just don't want to talk about.
Another reason is that what you're talking about just doesn't matter. For example, maybe you've just been through a break-up, and you're very upset. Of course, for you, this might seem like a big deal and you don't know how you're going to keep on going. But, for the rest of the world, this is pointless information that doesn't matter. Pretending that it matters might not help you as much as you may think it does.
And the final reason is quite simply that they are in a bad mood. They don't care about what you have to say because their mind is occupied with something that will have a far bigger impact on them.
Witty Comebacks
1. You Will Care When I Kick The Sh*t Out Of You
If they're just being rude, and you're talking about something they should care about, maybe a threat can help the situation. Although we would advise you to be very careful with this one. Say it to the wrong person and it might not end too well for you.
2. Strange For Someone Who Keeps Talking About It
If someone keeps on talking about something, but then claims they don't care when you start talking about it, that could easily raise a few eyebrows. So the best thing to do could be to highlight why what they've just said doesn't make any sense. Just call out their blatant hypocrisy.
3. I Don't Care That You Don't Care
There are some things which maybe we should care about. And whether or not the other person cares is irrelevant to that. If they need to know this, make it clear that they will listen to what you have to say, regardless of whether or not they care.
4. That's Because You Don't Have Enough Swag To Care
This one is good for light-hearted situations where it doesn't matter too much that they don't care. The joke here is of course that it's their lack of swag that causes them to not care. If only they had as much swag as you did, they would know what's worth caring about.
5. Well I'm Sorry It's Not About (Insert Trivial Topic)
Maybe they don't care about this. But they do care about something rather trivial. Maybe they don't care about world hunger, but they do care about their t-shirts. By using this insult, you can highlight how strange their priorities are, and make them aware that they need to rethink what they find important in life.
6. I Do
What they care about doesn't matter. The only thing that does is what you care about. And if this is important, listening to you will be more important than whatever they care about.
7. This Is Not About Caring
When the job needs to be done, it needs to be done. Whether or not the other person cares doesn't matter. So long as they do it, you don't mind.
8. And Your Point Is?
Again, for when whether or not they care is not relevant. Sometimes doing what's right is more important than caring about what's right.
9. That's Not Relevant
The same as the last ones. So long as they do it, why does it need to be with a smile on their face?
10. Then Why Did You Sign Up For This
Isn't it weird when someone signs up to do something but then claims to not care about it? Why not get to the bottom of why they decided to do something that they claim to not care about?
11. What Do You Care About?
Maybe they don't care about this. But that doesn't mean you can't get to the bottom of what they do care about so you will be able to connect with them better. After all, everyone cares about something.
12. You Don't Have To Care, You Just Have To Do
So long as they do what they are supposed to do. It doesn't matter if they see why they have to do it. Perhaps one day, they will come to realise why. Perhaps not. It doesn't matter either way.
13. Well, Think Of This For Payback For All The….
Have they done something to annoy you? Talking about something they don't care about could be the perfect form of payback.
14. I Know
Just to make it aware that you are already aware of their lack of caring.
Clever Replies
15. Well Maybe Your Life Would Be A Bit Better If You Did
Everyone needs to care about something. Because if you have nothing to care about, then you will have nothing to live for. Let them know that it's about time we started caring about something.
16. If We All Took That View, Nothing Would Improve In The World
The world gets better because people care about the problems. If we all took an "I don't care" attitude, things would be a lot worse than they are.
17. I Understand, But We All Have To Do Things We Might Not Care About
You know they don't care. But part of life is doing things that we might not care about. So let them know that they have obligations to do what's right.
18. I Think You Should Care
If this is important, then let them know that their lack of caring is not good. This is the kind of thing that they would benefit from caring about.
19. But If You Don't Care, Then Who Will?
For every problem that's been solved, it's taken people who care. If nobody cared about poverty, we would still be a poor country.
20. Just Give It A Go And Try To Care
Although we do sometimes have to do things we don't care about, things are easier when we do care about them. If you don't care about something, the best thing to do is your best to care about it.
21. This Is Important To You
Let them know that even if they don't care. They should. And maybe even try explaining to them what benefit they would get if they did care.
22. You Will Care When You See The End Goal
We might not care about the process. But we do care about the result. For example, we might not care about planting trees, but we do care about having enough oxygen to breathe.
23. Imagine What Would Have Happened If People Like Martin Luther King Didn't Care
A good question to think about. If Martin Luther King didn't care about civil rights, America would not be the country that it has grown into.
24. You Need To Care About Something
Everyone should care about something. A life without caring sounds like a rather miserable life.
25. Well, Maybe You Would Care If…
Let them know what benefit it will bring to them if they cared. Let them know why this is important to them. They should care about poverty because it can make things better for them.
26. And How Do You Intend On Achieving (Insert Goal) If You Don't Care About Anything?
Do they have a goal that you are aware of? Let them know that if they want to achieve that goal, they need to care about something. Maybe even what you're talking about.
27. Is That Because You Feel Like Other People Don't Care About You?
The reason people don't care is that nobody cares about them. Perhaps if you cared about them, they would start to care about you.
How To Choose The Right Response To "I Don't Care"
Picking the best response might be easier said than done. Because you need to think about the situation.
Are they just saying this to be rude? Or is there something deeper going on?
Are they an uncaring person? Or do they just not care about this topic?
You need to think about this stuff to decide what the best response will be.
You also need to consider what the end goal is. Do you want them to care? Or do you just need them to do?
You may also like: 9 More Polite Ways To Say "I Don't Care" (Professional)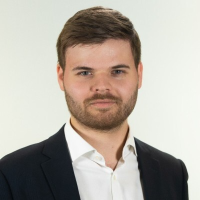 Martin holds a Master's degree in Finance and International Business. He has six years of experience in professional communication with clients, executives, and colleagues. Furthermore, he has teaching experience from Aarhus University. Martin has been featured as an expert in communication and teaching on Forbes and Shopify. Read more about Martin here.