As some of you are probably aware, the kind of English used on my side of the pond (England) is sometimes a bit different to the English used in the land of burgers and Trump.
Some words are spelt differently. But others just have a few bits of grammar difference.
Today, I want to look at the difference between Ph.D. and PhD. We'll look at which one is correct, what it stands for, and why it's a bit odd that it stands for that.
Should I Write Ph.D. Or PhD?
It is correct to write both Ph.D. and PhD. Which one is best to use depends on where you are in the world. In Great Britain, they tend to use Ph.D. In the United States of America, they prefer to use Ph.D.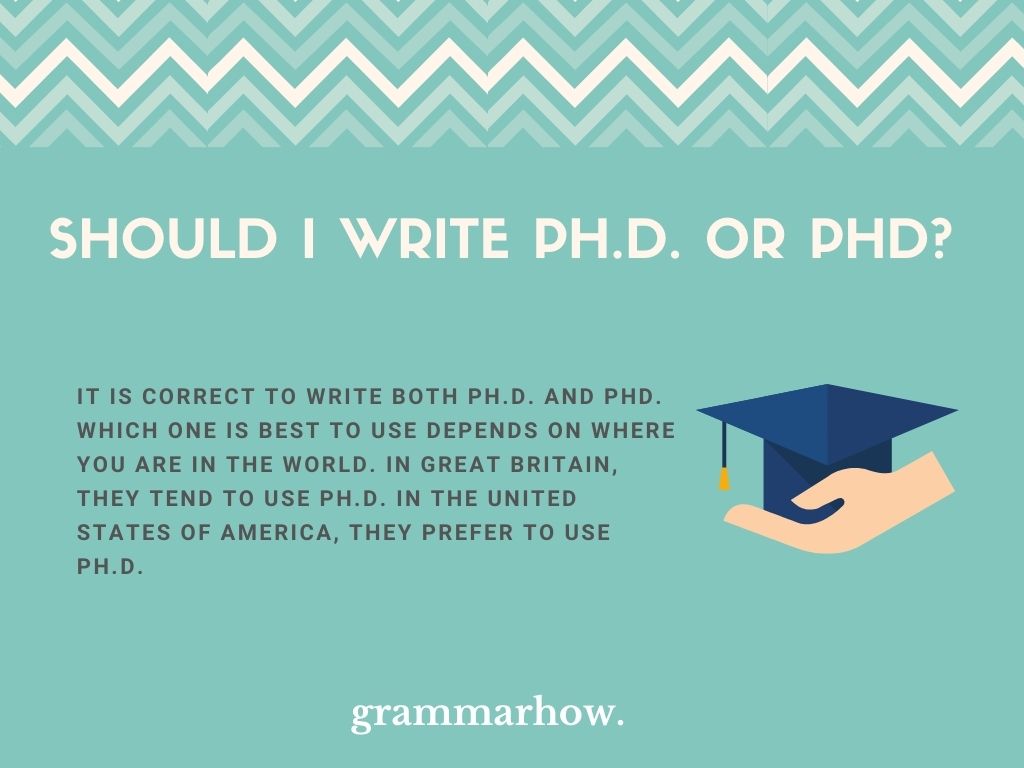 What Does Ph.D. Or PhD Stand For?
Let's try to understand what Ph.D. stands for.
It stands for two things. And it doesn't stand for one or the other, it stands for both of them at the same time.
The first thing is "Doctor of Philosophy" and the second is "Philosophiae Doctor". As the eagle-eyed among you may have noticed, "Philosophiae" is not English. It's in Latin.
This goes back to the days when the only people who needed university were high thinkers and philosophers.
Why Americans And Brits Disagree On Ph.D. Or PhD
This could help us to understand why Brits prefer PhD but Americans prefer Ph.D.
Perhaps, according to the Brits, it stands for "Philosophiae Doctor". But, according to the Americans, it stands for "Doctor or Philosophy".
After all, the Brits do have a habit of trying to sound smarter. But, whichever one you use, people on both sides should know what you're saying.
Why Ph.D. Or PhD Is A Bit Strange
Now, I want you all to understand how strange it is to call anyone with a PhD a "doctor of Philosophy".
Let's say someone gets a Ph.D. in history.
Well, first of all, is she really a doctor? If you break your leg, she's not the first person you'll go to for help.
But not only that, she studied history, not philosophy. So, she's called a doctor of philosophy despite not being a doctor and not having studied history.
Yet, for some reason, we still call her a "Doctor of philosophy".
Where Does The Word "Doctor" Come From?
When most of us hear the word "Doctor", we think of someone who makes us better when we're sick. And there may be a few of you who think of a skinny man who travels through time in a Police Box.
But originally, "Doctor" was Latin for teacher. Through time, you were able to get a "PhD" in more things than just philosophy.
And, if you wanted to become what we think of as a "Doctor", you would need to have a "doctorate" in medicine.
Technically, "Doctor" would be the wrong word. But it's become so common, it's managed to "common" itself enough to become the right word.
How To Get A Ph.D. Or PhD
Now I'm afraid you can't just walk into a university and walk out with a PhD. There are steps you need to take before you get there.
First of all, you will need to do a Bachelor's degree. This is the degree you do when you first enter university. There are some jobs where a bachelors is enough.
Let's be honest here, most of the time you spend doing a bachelor is just having fun.
If you want to, you can then progress onto doing a master's degree. This is a bit more high level, and you tend to need to work for it.
Once you have your bachelors you may decide to go on to get a PhD. If you go for this, you will be officially able to call yourself an intellectual.
What Kind Of Word Is Ph.D. Or PhD?
There are three ideas for what kind of word Ph.D. is. I'll tell you all of them and let you make up your own mind.
A PhD is something you have. You work towards it, and once you've handed in all of your papers, you get a PhD.
A PhD is also something you are. If you have a PhD, you might say "I'm a PhD."
It can also be a title, similar to "Sir" or "OBE".
If your name is James Smith, and you are PhD, your name and title could be, Mr James Smith PhD.
How To Address Someone With A Ph.D. Or PhD
Talking of this man called James Smith, there are several ways to address and introduce him.
If you have a Ph.D., you are allowed to call yourself "Doctor" even if you don't have a PhD in medicine. Therefore, if he wants, James could be called Dr Smith.
Maybe he doesn't want to be confused for a medical doctor but still wants to show off his Ph.D. In that case, we can call him James Smith PhD.
But, like many with a Ph.D., he may not want to mention it unless it's important. If he's one of these people, we should just call him Mr Smith.
Ph.D. Or PhD Vs Doctorate
Asking "What's the difference between a PhD and a doctorate?" is a bit like asking what the difference is between an apple and a fruit.
Just like an apple is a kind of fruit, a PhD is a kind of doctorate. However, it's not the only doctorate there is.
Here are some forms of doctorate you may want to know.
Doctor of philosophy. But now also means Doctor of something there isn't a doctorate for.
Doctorate in business.
Doctorate in engineering.
Doctorate in education
Doctor of medicine.
Conclusion
If you were wondering whether you should write "PhD" or "Ph.D.", you can write either, both are grammatically correct, and both are very common terms that mean the same thing.
The only slight difference is that "PhD" is more common in England and "Ph.D." is more common in America. This is perhaps because the British believe it stands for "philosophiae doctor" but Americans see it as "Doctor of Philosophy".
But, no matter whether you use "PhD" or "Ph.D.", to have one, you neither need to be a doctor nor study philosophy. All you need to do is stay in university for long enough to be able to get yourself a PhD. Then, you can become a PhD, and your title will be PhD.
You may also like:
DSc Degree vs. PhD Degree – What's the Difference?
9 Correct Ways to Write PhD Title on a Business Card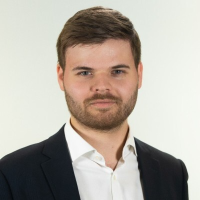 Martin holds a Master's degree in Finance and International Business. He has six years of experience in professional communication with clients, executives, and colleagues. Furthermore, he has teaching experience from Aarhus University. Martin has been featured as an expert in communication and teaching on Forbes and Shopify. Read more about Martin here.