When you're looking for a word to describe something that is similar but different, you might not be too sure of the right one to use. This article will look into the best synonyms for such a case, so you'll have an easier time figuring them out in the future.
Which Words Can Describe Something That Is Similar But Different?
There are some good words to describe something similar but not the same. Some of the best include:
Tantamount
Similar
Akin
Related
Virtual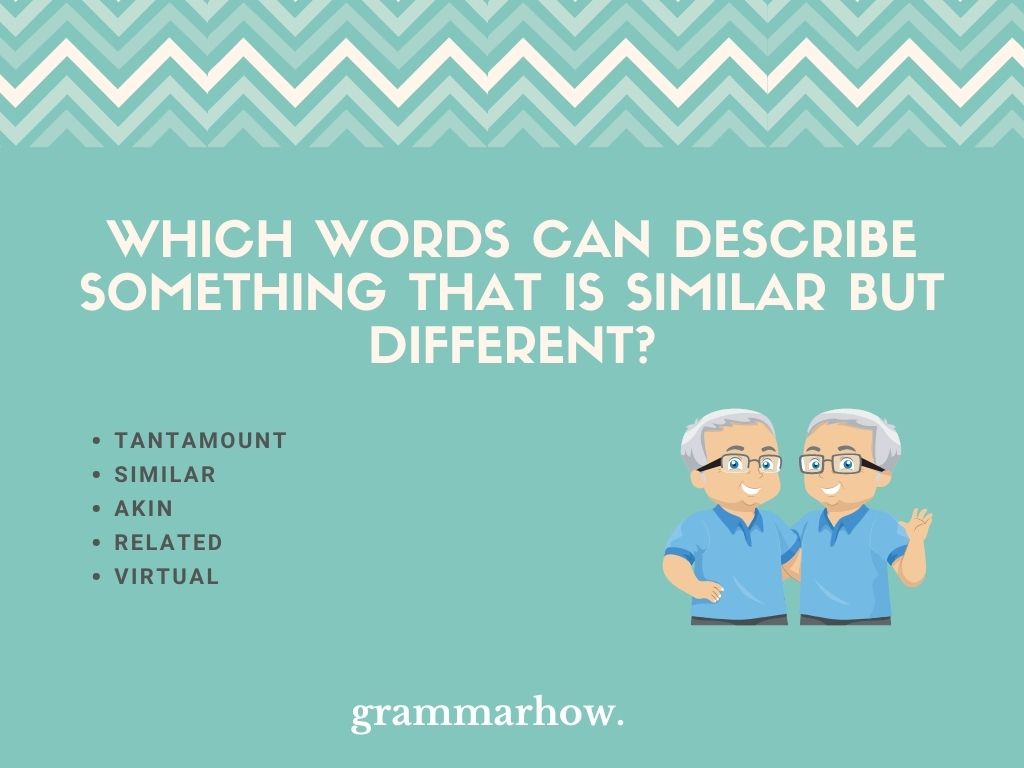 The preferred version is "tantamount" because it offers the closest meaning to what we're looking for with the description. When you want to talk about something that is not quite the same thing but similar enough, "tantamount" is usually the answer.
Tantamount
Let's start with "tantamount," which is by far the best choice on this list for talking about two or more things that are almost identical but differ in certain ways.
"Tantamount" is the word we use when we want to talk about two things being almost identical. However, there is a crucial difference between the things, which notably comes down to a negative quality.
The definition of "tantamount," according to The Cambridge Dictionary, is "being almost the same or having the same effect as something, usually something bad."
"Tantamount" is ideal when talking about things that don't quite work in the same way, even if that was their intention. Sometimes, people won't realize that something they've done or created is tantamount to another thing, and it'll take another pair of eyes to point this out.
We typically use the preposition "to" after "tantamount," which shows that two or more things are similar to each other. "Tantamount to" is the most common grammatical structure that you'll come across.
"Tantamount" works best in negative situations, and you can see that in the following ways:
Your obedience is tantamount to us finding where you hid your treasures all those years ago.
This idea is tantamount to bringing forth the destruction of everything that I've worked for.
Your idiocy is tantamount to what happened in those darker times of history. The times that everyone wished they could forget.
This error is tantamount to everything that we pushed aside to pave the way for the new world.
Similar
While sometimes describing a phrase with itself isn't ideal, in this case, "similar" is a great word to use. Similar things are, by nature, different in some way to their partners, which is why it belongs on this list.
"Similar" means that two things are not quite the same, and there is usually a subtle difference. That subtle difference is notable, and it's not something that you can miss, even if most people choose to overlook it.
The definition of "similar," according to The Cambridge Dictionary, is "looking or being almost, but not exactly, the same."
When we're talking about things that are similar or have similarities, we often try to look at how close they are to each other. We don't want to focus too much on what makes them different because that isn't the same.
Instead, it helps to look at what brings them together. It allows us to use "similar" in a more positive sense than "tantamount," which is ideal when the context of the sentence calls for something a little less harsh.
"Similar" is a great choice, especially when thinking about situations that aren't strictly negative in some way. These examples demonstrate its usage:
Our theories are far too similar. You have to change yours before there's too vast of a conflict in our findings.
These ideas are similar in theory, but they're completely opposite to each other in practice.
We've come up with something similar to what's already in motion. All this will do is streamline our processes.
You think these two things are similar, but I don't see any similarities that are worth noting!
Akin
"Akin" is a great word that's similar to what we're looking for here. It's not as common anymore, but it's still used when it counts.
We can use "akin" in the same way as "similar." It means that two or more things have much of the same qualities, even if they're not completely identical. We use "akin" to compare two things, especially to do with ideas or thoughts about certain qualities in life.
The definition of "akin," according to The Cambridge Dictionary, is "having some of the same qualities."
When talking about different but similar things, "akin" is up there with some of the best choices. The only reason we didn't place it higher is that it's an old-fashioned word that rarely sees common usage today.
In fact, most native speakers try to avoid it for the easier "similar" variation.
More people have heard words like "similar" (or even tantamount), and "akin" seems like something that a Shakespearian scholar might come up with in their prose. Of course, this isn't the case, and you're more than welcome to use it whenever you feel the need to.
We might see "akin" work as follows:
The language they speak is akin to something you might hear from a Tolkien novel.
Our ideas are akin, which makes it all the more difficult to shut yours down!
His thought processes are akin to the way I like to view the world, and I think that's why we're so perfect for each other.
Your mannerisms are akin to something out of The Jungle Book. I don't know which character best describes you, though.
Related
"Related" struggles to keep up with some of the other choices, but you can still find a wide variety of uses for it when looking for things that are similar yet different.
We can use "related" in a specific way when two things are connected or influenced by each other. It doesn't have to rely on a familial relationship, and we can instead talk about two or more things that work in a very similar fashion to each other.
The definition of "related," according to The Cambridge Dictionary, is "connected to, influenced by, or caused by something."
While it might not be the best synonym for this situation, it still has plenty of uses that mean the same thing as what we're looking for.
"Related" refers to a connection between a group of things. That means that those things influence each other in some way, whether that was the original intention of them or not.
When things are "related" in this manner, we can talk about how close they are in qualities. We can also look at what makes them different in certain ways and pick up on those traits to help people work out why we're only dealing with "similar" things and not "identical" things.
"Related" might work as follows:
These ideas are too closely related to each other. You've got to come up with something different.
This is related to the things that you spoke about yesterday, and I think I know what you're about to say.
We are all related in the way we think and share our ideas.
It's easier to find something that relates to your method of thinking, which sets us up for better discussions in the future.
Virtual
"Virtual" is the last word we'll go through. It's great to use when trying to think of something almost identical to another thing but has something stopping it from being completely the same.
"Virtual" is a word that seems to be more popular in modern days, especially with the global rise of virtual reality. It means that something is almost identical to the thing it's recreating, but there are certain obvious tells that show us otherwise.
The definition of "virtual," according to The Cambridge Dictionary, is "almost a particular thing or quality."
Since most "virtual" things are computerized or have some kind of programming requirement, it's obvious what the difference will be.
For example, if we talk about the real world and the "virtual world," we refer to the world we live in and a world that is made up of computers. While the concept is the same, the "virtual" world isn't quite the same as the real world, as we won't be able to live in it.
We can also use "virtual" as an adjective or adverb to describe something. When used in this way, it means that something is "almost" like the thing we're describing, even though there are distinct differences.
Virtually hidden (almost hidden)
Virtually running (almost running)
In this way, "virtual" still means that something is similar but not quite the same, which is what we're looking for from the words in this article.
You might see "virtual" in the following ways:
This is only a virtual experience, but it comes close to being like the real thing.
I'm virtually exploring the world around me with nothing but a computer console to do it.
The virtual world that you've created has much of the same conflicting issues as we experience today.
This is virtually identical to what we've seen already, which I find to be a waste!
You may also like:
12 Better Ways To Say "In Other Words"
11 Words That Mean "To Make Similar"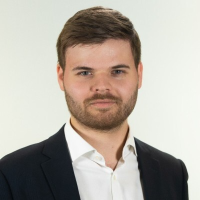 Martin holds a Master's degree in Finance and International Business. He has six years of experience in professional communication with clients, executives, and colleagues. Furthermore, he has teaching experience from Aarhus University. Martin has been featured as an expert in communication and teaching on Forbes and Shopify. Read more about Martin here.