Sighing is a common sound, no matter where you come from. Everyone is capable of doing it, and that's why we think it makes sense to come up with some good words to spell it. This article will cover the best onomatopoeia for such cases.
What Are The Best Ways To Spell The Sound Of A Sigh?
We've come up with some of the best ways to spell out a sigh. Here's what we recommend: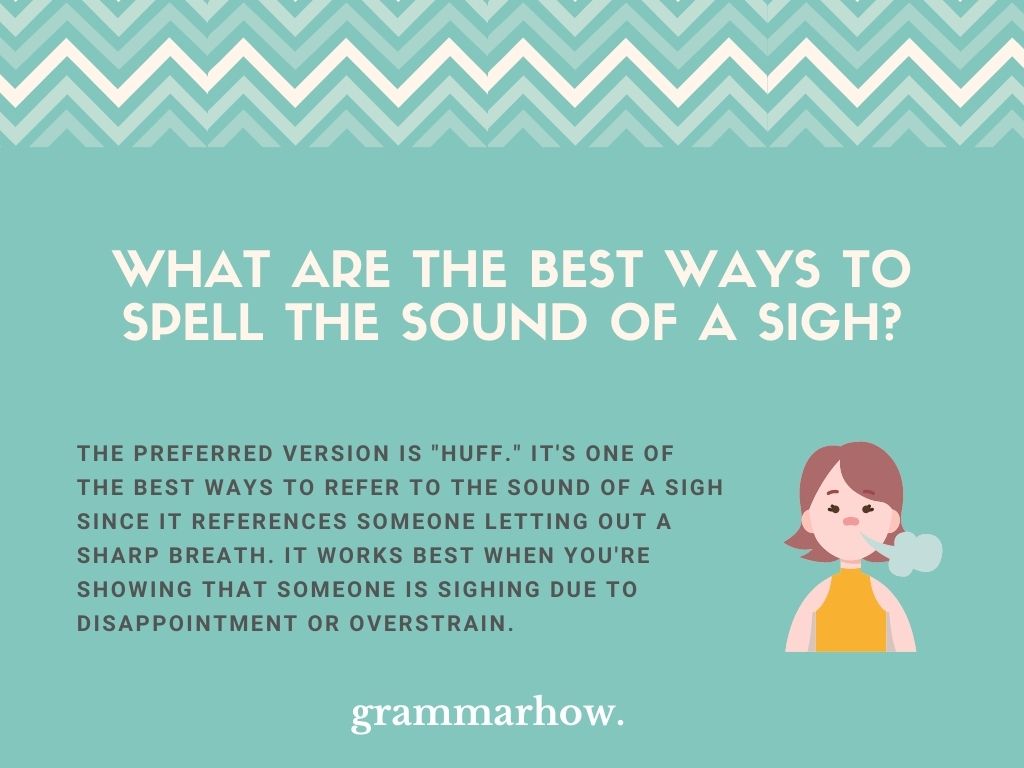 The preferred version is "huff." It's one of the best ways to refer to the sound of a sigh since it references someone letting out a sharp breath. It works best when you're showing that someone is sighing due to disappointment or overstrain.
Huff
"Huff" is a great way to show that someone is sighing. We use it to refer to the breath they take, and it's mostly associated with disappointment or exasperation.
We would huff at someone or something in particular. Someone might cause us to huff at them if we're disappointed with what they're saying or sick of listening to them speak.
Something might cause us to huff if it's caused us problems that we can't seem to solve. The "huff," when used toward an object, is more of an inward reflection. We're often more disappointed in ourselves than in the object we're using.
Huff. I don't think I can take another minute of this! It's really driving me crazy knowing that he thinks he's right.
Huff. Stop talking! I can't stand it! I just need a moment alone with my thoughts for once.
Huff. I thought that was going to be the end of it. I'm a bit unsure what I need to do now, though.
Sigh
"Sigh" is already suitable as an onomatopoeia word. When written down, all native speakers understand that someone is letting out a breath that shows they're disappointed about something.
The good thing about using "sigh" is that it allows us to stay much more general than most other words we could use. This means we can use it to refer to our disappointment or exasperation, but it can also refer to our relief in certain situations.
Sigh. I'm sorry, but I don't have any ideas that will help you. I've tried to think of all the possible outcomes.
Sigh. That was almost too much for me to handle. I'm just glad it's done, so I can look past it now.
Sigh. He's always saying things that make no sense. I stopped listening to him a long time ago.
Ssh
"Ssh" is more of a hissing sound. It's one of those sighs that a lot of people create through a closed mouth, often because they cannot stop themselves from doing it. These are involuntary sighs, and there aren't always good reasons for people to use "ssh."
Sometimes, people sigh without understanding why. They might just let out a long, drawn-out hiss that sounds like a sigh, but they won't know what caused it.
That's why "ssh" can work well. It refers to sighs that don't always have obvious meanings behind them.
Ssh. I don't know what to think. I must admit, I'm quite disappointed in you and your choices.
Ssh. I'm sorry, but I don't think that's the way forward. You need to come up with something better than that.
Ssh. I thought you were smarter than that. Clearly, I was wrong. I won't make that mistake again.
Hmm
"Hmm" is a disapproving sigh. We can use it when we don't believe what someone is saying or think we've heard the same thing from them before and we're sick of listening to them speak.
"Hmm" is a very common word to use in English. It refers to many different types of onomatopoeia, but it's also suitable when we want to reference a sigh.
Hmm. I'm not sure you know what you're talking about, so I'm not going to rely on you for help.
Hmm. I'm sorry, but that's ridiculous. I had to sigh because I just don't buy a word you're saying.
Hmm. I hope nobody heard me sigh. It would be pretty embarrassing if they realized how much I'm judging them right now.
Whew
"Whew" is a very specific sigh. We only use it when we want to share our relief about something. It's a great way to show that we were previously in a stressful situation but that the situation is finally over, and we don't have to worry about it.
It's common for people to use "whew" without thinking about it. When there is a lot of pressure on you, it's easy to make sounds as soon as it eases up. It's your body's way of telling you that it's all over, and you can relax once again.
Whew! I don't envy the man who has to come up against him next time! He's almost unbeatable.
Whew! That was rough! I'm glad it's over, but I'll happily give it another try when I have more practice.
Whew! I don't know how he managed that. I wish I had his skills, but I guess I'm not cut out for it!
Phew
"Phew" is a variation of "whew." Again, we use it when we want to share our relief that something is finally over. It refers to the pressure being lifted from someone, and it tends to be an involuntary reaction.
While saying "phew" might be hard to explain, it's definitely something that a lot of people will do. If you've ever been under immense pressure, you've probably noticed yourself coming up with a few excitable and relieving sounds when it is finally lifted from you.
Phew! I really didn't think we were going to make it out of that one alive! I'm glad we did, though!
Phew! I thought he'd never leave. Now, we can finally get back to the business at hand.
Phew! That seemed to go on forever. I almost fell asleep because of how boring it was.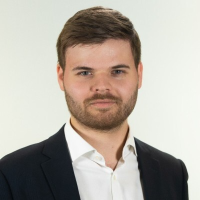 Martin holds a Master's degree in Finance and International Business. He has six years of experience in professional communication with clients, executives, and colleagues. Furthermore, he has teaching experience from Aarhus University. Martin has been featured as an expert in communication and teaching on Forbes and Shopify. Read more about Martin here.