Prepositions come after many words in English, and it's important to understand how the meaning of words changes based on which preposition follows it. Let's look at whether we use due on, due by, or due for, and what each one means.
What Is The Difference Between Due On, Due By, And Due For?
Due on should be used when something must be submitted on a given date and no other time. Due by should be used when something can be submitted on a given date or before. Due for should be used when something is submitted to a person, rather than a time.
When Is The Deadline Day Included?
When you want to announce the deadline day, it always comes after the preposition. That means you can say "due on Friday" or "due by Tuesday next week."
You can only put the deadline day after the preposition to indicate the urgency of the submission to the people you're talking to. "Due on Friday" shows the urgency of getting it completed by Friday, while "due by Friday" shows that you can do it by Friday or before.
Does Due By Friday Mean On Friday Or Before Friday?
"Due by Friday" means both on and before Friday. It's up to you how you want to interpret the message. Usually, you will start to work on the submission early and see how long it takes you to complete.
When something is "due by Friday," it means you have until Friday to complete it. If you work on it earlier than that and complete it before Friday, you can hand it in whenever it's ready.
Usually, tasks that are "due by" aren't as urgent as ones that are "due on," and there's no given time frame for how long that task might take somebody to complete. Some people like to leave "due by" tasks until the last minute and hand it in on the last day, but this isn't always a wise decision.
Is Completing A Task On The Due Date Considered Overdue?
Depending on what was asked of you, completing a task on the due date may be considered overdue. Typically, you want to finish the task before the due date to make sure that you can hand it in on time, ready for the due date.
Due dates usually include a day and a time. If you decide to complete your task on the expected day, you may often be overdue, as many people choose to finish their tasks earlier in the week to make sure they have something to hand in.
Of course, the time you hand something in and the time you complete it depends on the task in question. Some school assignments might take less time than a data-entry assignment would at your workplace. It's dependent on what someone asked you to do, just as much as it's dependent on your own work ethic.
Generally, make sure you get your task completed before the due date. That way, you'll never hand in work that's overdue.
6 Examples Of How To Use "Due On" In A Sentence
Let's look through some examples now of when "due on" is used. We use this when we're setting a specific time to hand in work. There's no leeway or wiggle room with this time either. We typically tell them that the day is final, meaning no submissions before or after.
This essay is due on Friday the 14th; otherwise, you will fail.
This assignment is due on Monday next week.
It's due on Thursday, and I haven't even started working on it yet!
We're due on Wednesday to hand this in.
What day is the work assignment due on, sir?
This is due on Saturday, no earlier, no later.
6 Examples Of How To Use "Due By" In A Sentence
Let's see how "due by" is used next. There's a lot more wiggle room and leniency when someone uses "due by." They don't want you to hand in the assignment later than mentioned, but they're more than happy to accept it earlier than that if you complete it. Often, they'll reward you for completing it quicker.
The homework is due by Friday, okay?
I've set you an assignment that's due by Sunday.
This piece is due by next weekend, right?
I've got to finish my essay that's due by tomorrow morning.
The article is due by tomorrow evening.
You have to complete the document for me. It's due by noon!
6 Examples Of How To Use "Due For" In A Sentence
Finally, "due for" is used when the intended thing is a person or place rather than a time frame. Also, if you use the word "when" to start a question, you will finish it with "due for."
When is this due for again?
Is that due for Mr. Robinson's class?
That's due for Tom, isn't it?
That's due for the class at six, right?
When is our homework due for?
When is this due for?
Is It Ever Correct To Use "Due At"?
When we want to be even more specific with our due date, we can include "due at."
If we're already on the day that the work was due and want to specify a time, that's when we use "due at." It keeps things even more specific than previously mentioned.
This is due at six o'clock.
This is due at two.
Quiz: Have You Mastered The Due On Vs Due By Vs Due For Grammar?
Now we'll run you through a quick quiz to see what you've learned from this article! We'll include the answers at the end for you to compare with as well.
The homework is (A. due on / B. due by / C. due for) Friday and no earlier.
The sooner you get it done, the better. It's (A. due on / B. due by / C. due for) Tuesday.
When is our essay (A. due on / B. due by / C. due for)?
Is that (A. due on / B. due by / C. due for) Tuesday or Wednesday?
This assignment is (A. due on / B. due by / C. due for) next week.
Quiz Answers
A
B
C
A
B
You might also like: "By Tomorrow" – Learn What It Actually Means! (Examples & Facts)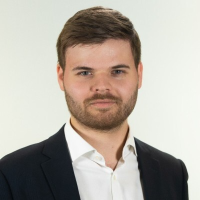 Martin holds a Master's degree in Finance and International Business. He has six years of experience in professional communication with clients, executives, and colleagues. Furthermore, he has teaching experience from Aarhus University. Martin has been featured as an expert in communication and teaching on Forbes and Shopify. Read more about Martin here.