The taste of coffee is infinitely complex and profound, which means that how to describe good coffee is not a simple task. This article will give you the vocabulary to describe coffee in one word by presenting you with 100 words to describe coffee.
100 Words to Describe Coffee
There's a lot of adjectives to describe coffee, because the flavor of coffee can be incredibly dense and layered. To properly describe the coffee taste in a cup of coffee, you might end up needing a large vocabulary, and that's what this article will provide for you.
This article will collect 100 words that can be used to describe coffee, and it will also explain some of its top picks below the list of 100 words itself. You'll discover you don't need fancy words to talk about coffee.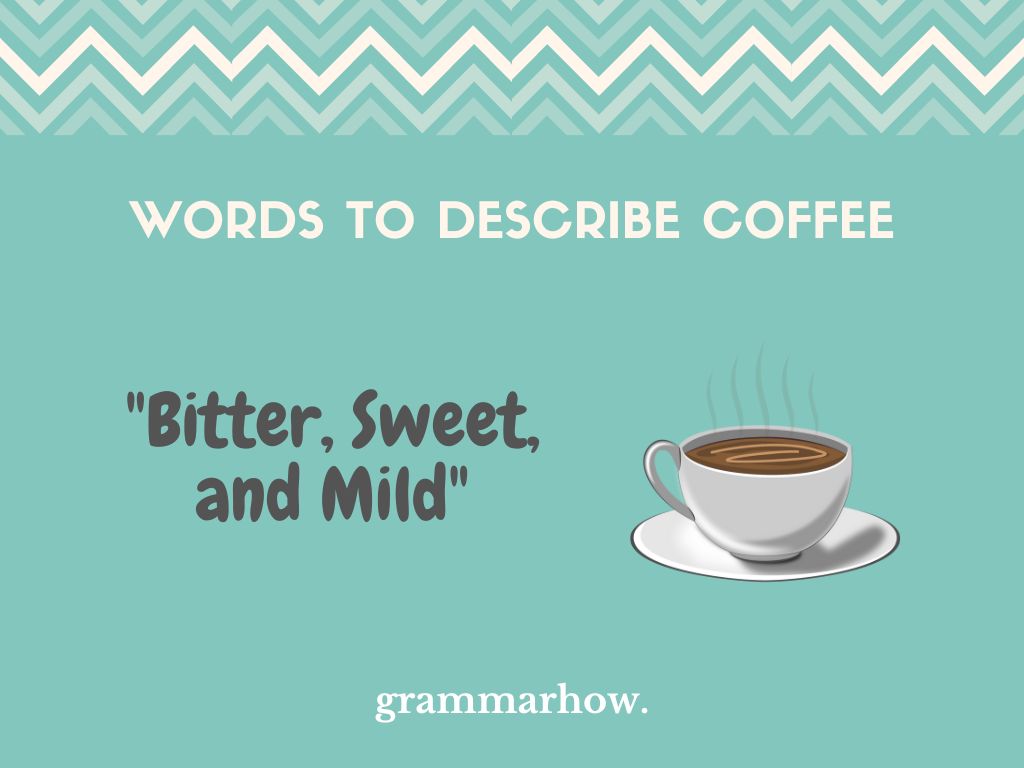 Acidy
Acrid
Aficionado
Alkaline
Alliaceous
Apple
Apricot
Ashy
Astringent
Bakers
Bakey
Basmati Rice
Berry-like
Bitter
Black Currant-like
Blackberry
Bland
Burnt
Butter
Camphoric
Candy-like
Caraway
Cardamon
Careful
Caustic
Cedar
Charred
Chocolate-like
Cineolic
Citrus
Clove
Coffee Blossom
Cooked
Coriander Seeds
Creosol
Cucumber
Dark Chocolate
Dedicated
Delicate
Dirty
Earthy
Flat
Floral
Fragrant
Fresh Earth
Garden Peas
Garlic
Hard
Harsh
Herby
Hobbyist
Honey
Humus
Intricate
Leguminous
Lemon
Malt-like
Maple Syrup
Medicinal
Mellow
Mild
Neutral
Nippy
Nut-like
Nutty
Obsessed
Onion
Passionate
Pepper
Phenolic
Piney
Pipe Tobacco
Piquant
Pungent
Roasted Almond
Roasted Hazelnut
Roasted Peanuts
Rough
Salty
Sharp
Smart
Smoky
Soft
Sour
Soury
Sweet
Swiss
Syrup-like
Tangy
Tarry
Tart
Tea Rose
Thyme
Toast
Turpeny
Vanilla-like
Walnuts
Warming
Wet Soil
Winey
Words to Describe Coffee Taste
The taste of coffee is incredibly profound and layered, which means that there are plenty of words you can use to describe it. Some of them are "sour", "sweet", "salty" and "bitter".
When your coffee has a somewhat acidic taste, you would describe that flavor as "sour", and its a major part of a cup of coffee's flavor profile.
If you add sugar or honey to your coffee, then odds are that it's going to taste "sweet". Some people love their coffee to be incredibly sweet, while others only want a slight touch.
A flavor that your coffee shouldn't have any of is "salty", however some people are bad at making coffee and end up making salty coffee.
The ideal cup of coffee should be somewhat "bitter", this is because the coffee bean as an ingredient is fundamentally bitter, so this is a core part of the flavor of coffee.
Here are some more words you can use to describe coffee taste:
Bitter
Hard
Harsh
Salty
Soft
Sour
Sweet
Tangy
Tarry
Tart
Words to Describe Coffee Smell
The smell of coffee is one of the most important parts of the experience of drinking the beverage. Some words you can use to describe coffee smell are "bland", "burnt", "candy-like" and "earthy".
When you're trying to smell a cup of coffee but there's nearly no smell, that means that the smell of that coffee is "bland" and should be described as such.
If you get a strong, charcoal smell from your coffee, then that smell is "burnt" and someone probably screwed up during the process of making that coffee.
When you smell coffee and it smells incredibly sweet, then that's a smell you might be able to describe as "candy-like" because of how sweet it is.
When you smell really good coffee and you get notes of the soil that the coffee beans were harvested from, that means that the smell is "earthy".
Here are some more words you can use to describe coffee smell:
Bland
Burnt
Candy-like
Earthy
Floral
Fragrant
Garlic
Herby
Honey
Lemon
Words to Describe Coffee Aroma
Perhaps the most important part of the composition of coffee is actually its aroma. There are plenty of different words you can use to describe coffee, such as "butter", "cedar", "chocolate-like", and "medicinal".
When the aroma of a particular cup of coffee is fairly fatty, you could feasibly describe that cup of coffee as having the aroma of "butter".
If you think you're smelling wood as part of the aroma of a cup of coffee, then you can say that the cup has the aroma of "cedar".
If you're picking up cacao notes in the composition of the aroma of coffee, you could describe that coffee as being "chocolate-like".
When you smell coffee and the aroma feels vaguely wrong and chemical in a way that you dislike, you could describe that aroma as being "medicinal".
Here are some more words you can use to describe coffee aroma:
Butter
Cedar
Chocolate-like
Medicinal
Mellow
Mild
Neutral
Nutty
Onion
Pepper
Words to Describe Coffee Lover
When it comes to describing not coffee, but the people who love coffee instead, there are still plenty of different adjectives you can use. Some of these are "passionate", "aficionado", "hobbyist" and "dedicated".
If someone loves coffee, then it can be surmised that they are passionate about the brewing of coffee, so "passionate" is a very accurate word to use.
When someone is a coffee "aficionado", it means that they are constantly trying to make their coffee better, and they buy specialty tools for this.
If someone says that they brew coffee as a hobby, then that makes that particular coffee lover a "hobbyist", because they are constantly brewing as a hobby.
When someone spends a lot of their time perfecting their cups of coffee, that means that they are a "dedicated" coffee lover.
Here are some more words you can use to describe a coffee lover:
Aficionado
Careful
Careful
Dedicated
Delicate
Hobbyist
Intricate
Obsessed
Passionate
Smart