Are you looking for a complete list of common irregular verbs? Then you've come to the right place. In this article, we have researched our way into creating an irregular verbs list and sorted our findings based on their popularity in Google's search engine.
20 Most Common Irregular Verbs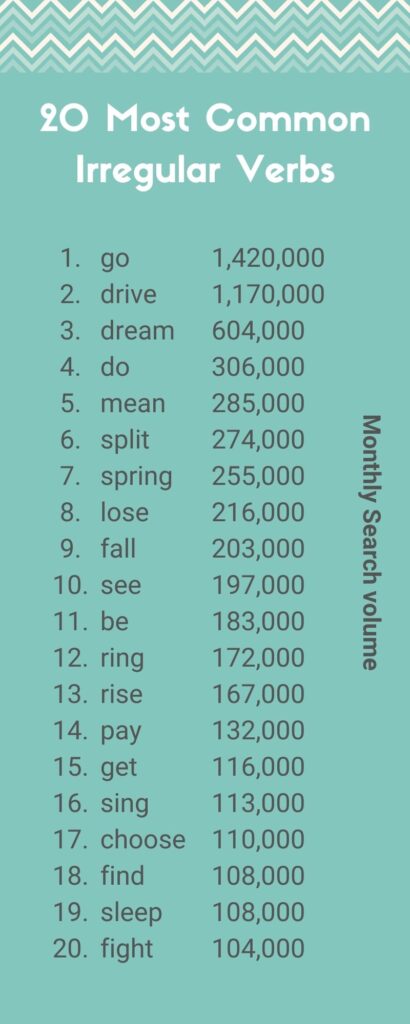 What Is An Irregular Verb?
An irregular verb is a name we give to any verb that does not follow the expected English rules when turned into the past tense. While regular verbs have "-ed" endings, irregular verbs can vary based on the base verb form.
The definition of an irregular verb, according to Dictionary.com, is "a verb in which the past tense is not formed by adding the usual -ed ending."
As you can see, most of the irregularity in the verb form comes from it not being standard. Also, since there is more than one past tense form, it means that most irregular verb forms have multiple tenses and variations we need to address.
This is not the case with regular verbs. The present tense is one form, while the past tense is another. We might expect the following if a verb was "regular:"
Like / Liked
Walk / Walked
Wait / Waited
However, when we use irregular verbs, we are met with many different verb endings. We have to split the past tense into two very different forms for all of these verbs. This is where the past participle and simple past tense come into play.
The present tense form stays the same, and we might see the following irregular verbs and think nothing more of them:
However, we cannot use the past tense forms as follows:
Instead, we have the past participle and the simple past tense to use:
Drunk / Drank
Driven / Drove
Eaten / Ate
Fallen / Fell
Unfortunately, there are no exact rules we can follow between the different irregular verbs. Most of it comes down to remembering which verbs change to which forms!
Irregular Verbs Examples
To help you understand more about the irregular verb forms, we can split the examples into three sections. We'll make sure to use the same verb for each numbered example, and you can see the different variations we use based on the tense.
Present Tense
I drive my car whenever I have the time.
You drink too much, and it's bad for you.
I eat a lot on the weekend.
The present tense is simple enough. All irregular verb forms are the same in the present tense as most regular verb forms. We just use them as the base form for the past tense (which is where the irregularities come from).
Simple Past Tense
You drove to visit your mother that week.
I drank too much again, and my head hurt.
I ate a lot of cake when no one was looking.
The simple past tense refers to events that have happened before. We have to use different past tense forms based on the irregular present tense verb. Unfortunately, there are no strict rules we can apply to any of them.
Past Participle
You have driven your last journey in this car.
I have drunk the same beer for fifty years!
We have eaten all of the desserts.
The past participle isn't a verb form we can use on its own. We always need auxiliary verbs (like "have") alongside the past participle. Again, there is no strict way to remember exactly what verb form has what past participle rules.
Irregular Verbs Quiz
Finally, let's see if you can figure out some of the answers to this quiz. We'll only focus on the irregular verbs we've mentioned in this article to save you from too much confusion!
We (A. drink / B. drank / C. drunk) all day yesterday.
You could (A. eat / B. ate / C. eaten) a whole horse if we allowed you to!
I (A. drink / B. drank / C. drunk) when I feel like it!
He (A. drive / B. drove / C. driven) to visit his inlaws yesterday.
I (A. eat / B. ate / C. eaten) a lot at the party!
You (A. drive / B. drove / C. driven) me crazy!
Please don't (A. eat / B. ate / C. eaten) any more.
You should have (A. drink / B. drank / C. drunk) the opened Scotch!
You have (A. eat / B. ate / C. eaten) all of my best cakes! How could you?
I should not have (A. drive / B. drove / C. driven) this far to come and see you.
Quiz Answers
B
A
A
B
B
A
A
C
C
C
Martin holds a Master's degree in Finance and International Business. He has six years of experience in professional communication with clients, executives, and colleagues. Furthermore, he has teaching experience from Aarhus University. Martin has been featured as an expert in communication and teaching on Forbes and Shopify. Read more about Martin here.