When referring to online searches that you've done through the popular website Google, should you say you looked it up "in Google" or "on Google"? And what about just "Google"? This article will clarify what the correct form to use is, and which ones should be avoided.
Do You Search "In Google" or "On Google"?
When it comes to describing online searches, you should use "on Google" and not "in Google". This is because Google is an online website, and you should generally use the preposition "on" to refer to apps and websites rather than the preposition "in".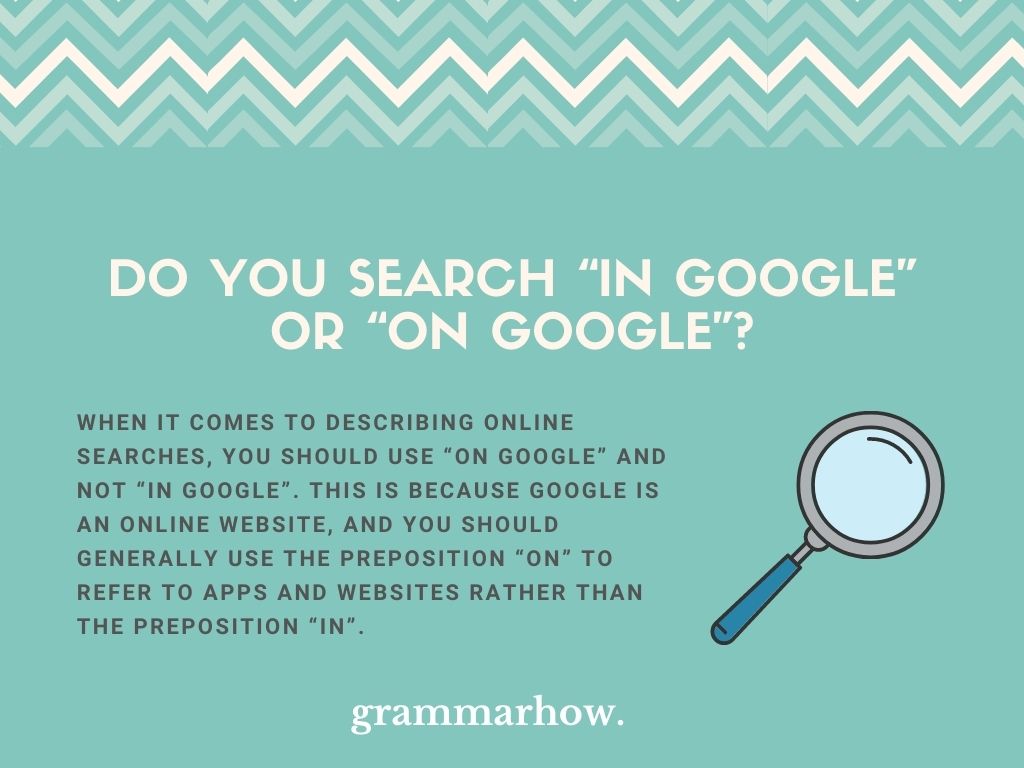 The preposition "on" is frequently found in contexts that relate to using the internet. You'd say "I'm on the internet" and not "I'm in the internet", for example.
Do You Look Up "In Google" or "On Google"?
If you're looking up something online using Google, then you're looking up something "on Google" and not "in Google". The preposition "in" denotes something that is inside of something else, and is generally not used with online apps and websites. The correct phrasing is "On Google".
Because Google is an online service that you're using, you have to use "on" rather than "in" when talking about looking stuff up on Google.
What To Say Instead
Having established that you should use "on Google" and not use "in Google", you might be wondering if there are any alternative ways in which you could phrase the action of searching for things online. Here are some of the best alternatives that you can use instead of "on Google":
Google
Perhaps the best alternative is to quite simply use the word "Google" as a verb. Because of how ubiquitous the search engine has become in the last couple of decades, the verb "Google" is used to refer to looking things up on Google.
Because the word "Google" has become equivalent with "online search" for most people, you can simply use "Google" like a verb to talk about online searches.
Here are a few examples that'll showcase how you can use "Google" as a verb in a sentence:
I was googling the necessary information when you finally called me.
You should google the opening hours of the store in case we get there too early.
He was googling an actor's age and main roles a little while ago.
She googled his name and it turned out that, in fact, he was the famous actor he said he was.
Search
An interesting alternative you can use is to simply use the verb "to search" and let the context of the sentence indicate that you're talking about online searches specifically. This could be done in several different ways that would signal that this is an online search.
Obviously, the verb "to search" is not exclusive to online searches, but by carefully crafting your sentence you won't even need to specify that your search was on google.
Here are a few example sentences that cleanly and efficiently use "to search" for online searches:
I searched for this online the other day, but I didn't find any results.
I was browsing online, and I searched for a specific type of plant vase that I wanted.
I searched for the actor's name on the Internet Movie Database, and I found it.
I searched for the essay online, but I was unable to find it in spite of all my efforts.
I Did A Google Search
Another alternative you can always rely on is to, instead of saying that you searched for something on Google, say that you did a Google search. It's a difference in semantics mainly, but it can be a highly effective change.
By saying that you've done a Google search, you're placing more emphasis in your action of searching, and this is done by changing up the phrasing in a very simple and straightforward way.
These are some example sentences that will show you how to use this particular phrase:
I did a google search for all of the available conventions in the area.
He did a google search for what the best kind of rice cooker for his budget was.
She did a google search for the best-reviewed movies from the last year and got to work.
On or In Google Drive?
With databases and websites that are situated online, the preposition that is generally used is "on", so therefore the correct answer would be "on Google Drive", as opposed to "in Google Drive". If the verb is "upload", however, the answer would be "upload to Google Drive", which uses "to" instead.
If the phrase that you're crafting has something like "I looked at the file on Google Drive", you use "on" because that's the preposition you use to describe looking at something on any given website.
"In Google Drive" is inaccurate and should best be avoided, because the preposition "in" is rarely, if ever, used in the context of looking at websites through the Internet.
The general rule that you use "on" when describing looking at websites is one that can help you out in many different contexts.
Here are a couple of examples of the correct and incorrect phrasing for using Google Drive:
Correct: I was looking at the uploaded .mp4 on Google Drive that you sent me.
Incorrect: She took one big look at the .pdf in Google Drive and decided to read only half of it.
On Google Meet or In Google Meet?
When it comes to describing using the video calling service Google Meet, you should use "on Google Meet" and not "in Google Meet". This is because, when it comes to using websites online, the main preposition you use is "on", and this is true in this case as well.
These sorts of situations can be hard to conceptualize, especially if you're not a native English speaker. "on" and "in" describe something that is on top of a surface or inside something else, respectively.
However, websites are more abstract, so it's more a matter of what got used as the standard. In the case of English, the standard is "on" and not "in".
Here are a couple of examples showcasing the correct and incorrect way to write this:
I created a video call on Google Meet, if you want to join.
She made a new room in Google Meet so we can continue the meeting.
You may also like: "In The Website" Or "On The Website" – Easy Preposition Guide